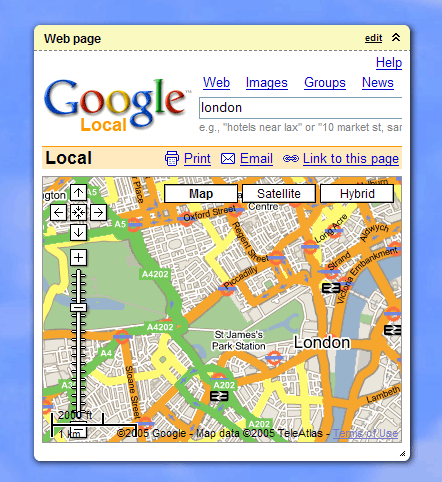 You can now embed web pages into your Protopage using the new web page widget.
Add the widget to your page by using the bottom toolbar, then click the edit button to enter the address of the web page you wish to embed (e.g. http://www.example.com).
You may optionally set a vertical offset or horizontal offset amount, which will hide the topmost and leftmost part of the web page displayed (which means you won't have to scroll down to the interesting part of the embedded web page each time you load your Protopage).
A few notes:
Some web pages (such as the Google Maps page) will automatically attempt to focus the text cursor in their search box when they load. This means that if the Google Maps page is located at the bottom of your page, then the page will automatically scroll down to the Google Maps widget when you load your Protopage. For this reason, you may find it more practical to add web sites like these to a page other than page 1 within your Protopage.
Due to browser implementation specifics beyond our control, you may find that some Macromedia Flash animations always appear on top of all other content, even if they are supposed to be outside of the visible bounds of the web page widget.
You might also see some interesting effects in Firefox temporarily while you are scrolling or dragging the web page widget. Unfortunately, the issues listed above are outside of our control.
Please also note that for best results, if you are using an older installation of Firefox it is preferable if you upgrade to the latest version (1.5).
Possible uses of this widget include embedding search engine pages, maps, web cams, sports scores… please do leave a comment if you think of a cool use for this widget that you'd like to share!