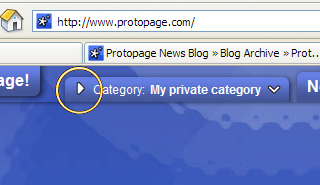 Please note that you can click the 'twister' to reveal more categories. This seems to be the most common reason for not being able to find tabs imported from your old Protopage.
We're also getting feedback in from people who have accidentally deleted tabs. We thought this might happen, so we took precautions. Any widgets lost due to tabs being removed can be 'undeleted' – we're working on the user interface for this now.
Some of you have also had trouble finding panels that you had kept in the old 'widget dock' – these should have been migrated into your page under a new tab. Please let us know if you have any trouble locating them.
We've also had a lot of requests to turn off the icons next to bookmarks – we're working on that too.
You may find that your old color scheme isn't as suited to V3 as it was to the old version of Protopage. You can make your page look like the screenshots on this blog by clicking 'Colors and Settings' and then 'Load defaults'.
Please do write in and let us know if you have any problems with the migration of your page to V3 – you can contact us at our feedback form here.
UPDATE: We're working on our first mini maintenance release now. We'll post again today.
UPDATE 2: We've made 9 mini maintenance releases in the last 48 hours – thank you for reporting bugs and please continue to do so here. We are still working on undelete / migration issues and will post again soon. All data is backed up so all issues should be resolved.