We're introducing two experimental features today – we have not enabled them by default for existing users but you can try them by following the instructions below:
News Feed Thumbnail Previews
Our news indexing system has been upgraded to provide thumbnail previews for your news feeds, in order to give your page a more exciting look. See below for before and after screenshots: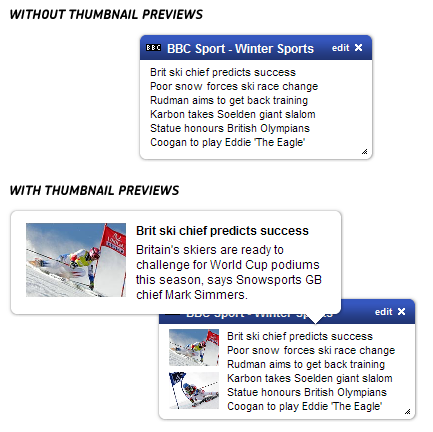 Auto Arrange
This new feature automatically aligns your widgets into columns, and automatically resizes the widths of the widgets to fit the width of your browser. This feature will be particularly useful for those of you that use your Protopage on multiple machines, each with different monitor sizes.
Instead of imposing a 'one widget per column' approach, the Auto Arrange feature will allow widgets to span two or more columns if required, giving you maximum flexibility with your page layout.
Auto Arrange can be switched on or off for each individual tab inside your Protopage – so that you can enjoy both layout systems according to the type of widgets on your page (pages with lots of RSS News Feeds tend work well in columns, and sticky notes tend to look best when freely positioned).
How to enable these new features
If you have just registered a new Protopage, these features are already enabled for you.
If you are an existing user and would like to try these new features, click the 'Colors / Settings' button on the toolbar at the bottom of your page, and un-tick the following two settings: