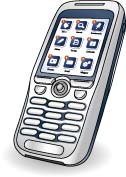 We're currently working on our most requested feature – mobile access. You'll be able to access all of your news feeds, search engines, bookmarks, notes, to-dos, calendar entries, photos and email inboxes from most mobile phones that have an integrated web browser.
We've also been releasing a number of bug fixes over the last few days, including tweaks to the auto-arrange functionality, and full international character set support for the tabs at the top of your page.
We've given the default color theme a spring clean – click 'Load defaults' from the 'Colors / Settings' button on your toolbar to preview the new blue sky look (but remember – only click the 'Save' button if you want to keep it as your new color theme)
Happy New Year from all at Protopage!